New Resident Information
Welcome to your new home!
Below you will find a collection of links and information about Alarca's processes and procedures, as well as some helpful hints for your new home. Please feel free to contact us at any time via phone, e-mail, or your online portal.
Alarca Realty
249 Williamson Road, Ste B102
Mooresville, NC 28117
704-900-3354
tenant@alarca.com

Office Hours: Monday-Friday 9am-5pm
After Hours Emergencies: 1-855-559-5525
HOW TO PAY
PayNearMe: This is a program set up with 7-Eleven, Ace Cash Express and Family Dollar stores across the greater Charlotte area which allows you to make payments to Alarca, in cash, convenient locations. You can read more information about this program here or access our FAQ sheet here.
Online Portal: Alarca's online portal is an easy way to pay your rent by automatic monthly draft or a one-time bank transfer. You simply enter your bank account information on your portal and you are able to send your payment. You get instant credit on your account and it is FREE!
Other Payments: Alarca is a Green Property Management firm so we encourage the use of the above two options to make payments. However, if you are not able to use these options you may contact our office to discuss other options.
USING YOUR PORTAL
The online portal is an easy way for you to submit maintenance requests, review lease details, and pay your rent.
Setting up your Portal: Once you have paid your first month's rent, your portal will be activated. When you visit our website, you will notice a link for Tenant Login in the top right corner of the page. By clicking on this link, you will see the option to login, or Sign Up for an account. After clicking Sign Up, you will be guided through the process for accessing your portal.
Making a Payment:

After logging in to your portal, click My Rental in the toolbar across the top of the page.
Select Payment Account to add your bank account information. (Note: If you used a credit card to pay your application fees online, you may need to click Edit Payment Account at this step.) Enter your bank information and click Save.
Once your information is entered, you are ready to make a payment. After selecting My Rental from the toolbar, choose Make Payment and type in the amount you wish to pay. If you have a balance due, you will be required to pay the full amount. If you are paying early, you will be able to type in an amount to pay.
Payments typically take about 3 business days to clear our bank. You will receive instant credit when you submit the payment. If your payment is returned due to Insufficient Funds (NSF), you will be responsible for the full payment, including a NSF fee and late fees (if applicable).

Automatic Payments: If you would like to scheduled payments to be automatically drafted out of your account each month, you may click on the Auto ePayment option after selecting My Rental from the toolbar. Select Schedule ePayment, enter the start date and the amount of the payment, then click save.
Submitting Maintenance Requests: Select Maintenance from the toolbar across the top of the page. Select New Service Request. Fill in the form, making sure to provide a correct phone number and e-mail address. Click Save at the bottom of the page. Alarca will immediately receive notice of your request and you will be contacted to discuss the problem.
Viewing your Lease and documents: Select Documents from the toolbar across the top of the page. You will see all available documents listed. You are able to select these documents and save them for your reference.
Other Portal Info: On the main page of your portal, you will notice a notes section at the top of the page. This may change periodically, and it is a good idea to monitor this area for updates. You are also able to view a summary of your charges, your contact information, and your open service requests. Here is what you can expect to see when you log in: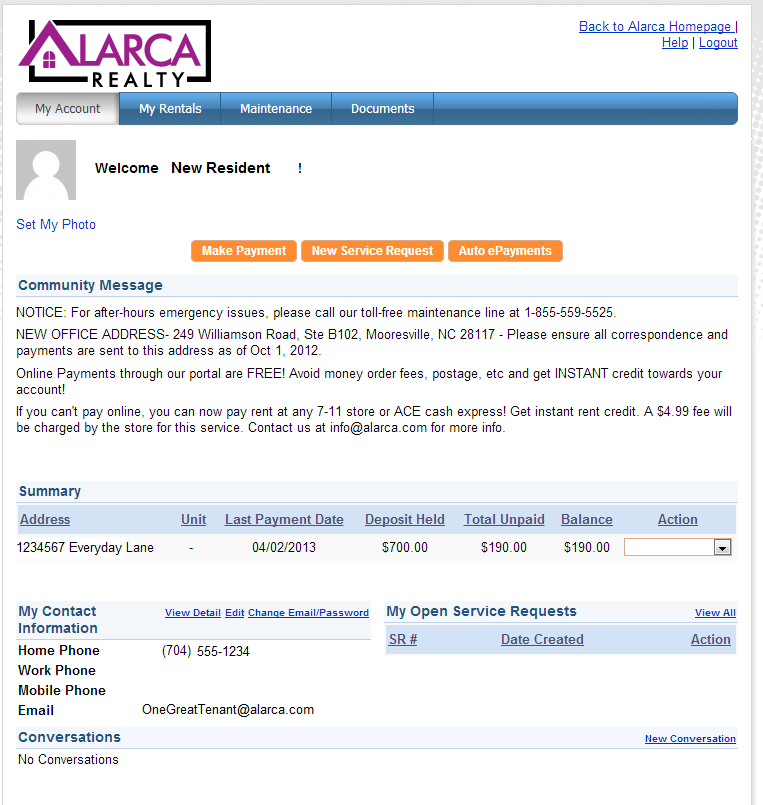 ORIENTATION VIDEOS
Alarca provides all new residents with access to an Orientation video with information on how to use and turn off the systems in place in the home. This video will be emailed to you at move-in. A link will also be posted on your account, and available for your reference under the Documents tab on your portal.
USEFUL CONTACT INFORMATION
Please click HERE to find a list of contact information for utilities, services, and other useful agencies.
EMERGENCIES
Click here for information about non-emergency maintenance issues.
What is considered an Emergency? Definition of an Emergency: A life-threatening situation such as a fire, flood, and/or uncontrollable water, electrical problem, smell of gas, etc.
Emergencies causing immediate danger, such as fire, call 911
Emergencies involving gas, call the gas company and , if necessary, call 911
Emergencies involving IMMEDIATE electrical danger, call the utility service
Non-working heat or A/C is NOT an emergency-this is a priority, and Alarca will make it a priority with vendors to have the heat or A/C working as soon as possible.
Emergencies outside of normal business hours may be reported by calling 1-855-559-5525
Certain maintenance items are an inconvenience and, just as if you owned the home, you may decide it is worth the extra cost of night or weekend service to have the repair made outside normal business hours. We will generally provide you with the option to pay this extra cost to get the repair completed more quickly.
RENTER'S INSURANCE
Renter's Insurance covers your furniture and belongings that may get damaged or destroyed. Renter's Insurance also covers you in the event that someone else in injured in your rental or someone's personal property is damaged and they sue you. Renter's Insurance typically costs between $10 and $25 per month.
SATELLITE DISHES
If you are interested in having a Satellite Dish installed at the property you are renting, you will be asked to complete a form. You must get permission BEFORE installing a satellite dish on the property or the home.
s